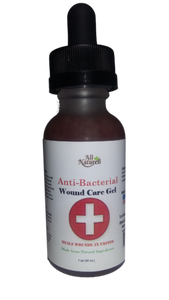 Anti-Bacterial Wound Care Heals 3X Faster
Regular price $29.99 $19.99 Sale
Anti-Bacterial Wound Care Gel is an all-natural, concentrated gel formula that heals wounds 3 times faster. It works great on Burns, Scraps, Cuts, Bed Sores, Diabetic Wounds, Fungal Infections, Ulcers, Cracked Skin, Pressure Sores, Ringworm, Jock Itch, Athletes Foot and More!
Ingredients
Aloe Vera, Water, Croton Lechlen, Algae Extract, Hyaluronic Acid, Glycerin, Potassium Sorbate
Directions
Apply 2 to 3 drops of gel directly to wound, gauze or bandage 3 times per day.
Legal Disclaimer
For external use only. Avoid contact with eyes. Keep out of reach of children. If irritation, redness, or discomfort occurs, discontinue use and consult a licensed health care practitioner if symptoms persist. These statements have not been evaluated by the Food and Drug Administration. This product is not intended to diagnose, treat, cure or prevent any disease.